Digital Lock Installation – Keyless Entry & Keyless Locks
Digital locks are one of the quickest and most cost-effective solutions to improve your home or business premises security. With smart card readers, passcode access and fingerprint scanners, digital locks enable you to keep your home or office secure from burglars looking for an easy target. At Locksmith Perth 24/7, our team of professional locksmiths are skilled at Digital Lock Installation. We know the best digital locks in the market and can guide you in choosing the right one that fits not just your requirements but your budget as well.
For Digital Lock Installation, CALL 0427 580 823
Why Install A Digital Lock?
Traditional door locks are so last decade. Keyless, digital door locks are the modern alternative to the old lock and key mechanical door entry systems. With more advanced and sophisticated access controls that rely on passcodes (that can be personalized), access cards or biometrics, Digital locks are a much more secure choice when compared with mechanical locks, which are susceptible to tampering.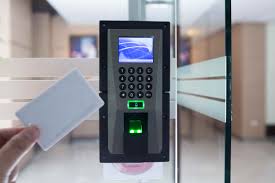 Top Reasons Why A Digital Lock Is the Perfect Solution for You
Makes your home much more secure, reducing the chances of a break-in.
Gives you peace of mind, since you know that you, your loved ones and your valuables are safe.
Allows you to control who has access to your home.
Allows you to monitor who enters/exists your home and at what times.
Keyless entry means you don't have to carry a set of keys to access your home.
There is no fear of duplication of keys.
With passcode entry, you can change the passcode whenever you want, ensuring that only the people you divulge the new passcode to can gain access.
Digital Lock Installations and Repairs
Locksmith Perth 24/7 has a team of well-qualified and experienced locksmiths who stay updated on all the latest products, technologies and services in the locksmith industry. Our team of digital experts can install digital entry systems for your residential, commercial or industrial properties and give you a thorough demonstration on how to use them. Furthermore, we offer quick and efficient digital lock service and repairs, so if you have a locksmith emergency, you can rely on our fast response and prompt service for an immediate solution.
The Best Digital Locks in Perth
Here's a list of some of the best digital locks available in Perth.
Lockwood 001 Touch Digital Deadlatch
The Lockwood 001 Touch Digital Deadlatch comes with a touch keypad, integrated battery and 2 RFID cars on Mifare. It combines the convenience of a digital lock with the security of a deadlatch to provide the ideal digital lock system. With features allowing you to add or delete users, automatic locksin after 5 seconds and passage mode option for daytime use, it offers everything a user will want from a digital lock and more.
Lockly Secure Plus Deadbolt Lock
The Lockly Secure Plus Deadbolt Lock comes with an advanced fingerprint scanner that only authenticates active human touch, thus preventing fingerprint duplication with silicone, film or rubber. It has Bluetooth connectivity, so you can connect it with your smartphone. The Offline Access Code feature allows you to share access via text or email to guests.
The Borg 2020 Digital Lock
The Borg 2020 Digital Lock comes with a dual keypad and a 60mm backset. With an easy code change procedure, 8000 codes to choose from and side specific code access (code must be entered from the correct side), it is a fully mechanical digital lock that offers reliability and a simple system that is user-friendly.
For all your Lock Installation and repair, call Locksmith Perth 24/7 at 0427 580 823.
Frequently Asked Questions
What are the benefits of installing digital locks and keyless entry systems in my home or business?

Digital locks and keyless entry systems offer numerous advantages, including enhanced security, convenience, and flexibility. With keyless entry, you eliminate the need for physical keys, reducing the risk of lost or stolen keys. Additionally, you can grant temporary access to visitors or employees without providing physical keys, making it easier to manage access control.
Are digital locks and keyless entry systems compatible with my existing doors and hardware?

In most cases, digital locks and keyless entry systems are designed to be compatible with standard door preparations. They can be installed on various types of doors, including wood, metal, and glass. However, it's essential to consult with a professional locksmith to ensure proper compatibility and installation.
How secure are digital locks and keyless entry systems compared to traditional locks?

Digital locks and keyless entry systems can offer high levels of security when properly installed and maintained. They often utilize advanced encryption and authentication technologies, making them resistant to common lock-picking techniques. However, it's crucial to choose high-quality products from reputable manufacturers and have them installed by a qualified locksmith to maximize security.
Can I still access my property if the digital lock's batteries run out?

Yes, most digital locks and keyless entry systems have backup options to ensure you can access your property even if the batteries are depleted. These options may include emergency power terminals, mechanical keys, or external battery packs. It's essential to inquire about the specific backup methods available for the digital lock you choose.
How do I manage access for multiple users with a keyless entry system?

Keyless entry systems often come with management features that allow you to control access for multiple users. Depending on the model, you may be able to create individual access codes or issue access cards or fobs for each user. Some advanced systems even allow remote access management through mobile apps, giving you greater control over who can enter your property.
Can I integrate the keyless entry system with other security devices or home automation systems?

Yes, many keyless entry systems are designed to be compatible with other security devices and home automation systems. Depending on the model and manufacturer, you may be able to integrate the keyless entry system with smart home hubs, security cameras, and alarm systems, providing a comprehensive security solution for your property.