Access Control Systems –  Locksmiths Perth 24/7 We Come To You!
Locksmiths Perth 24/7 supplies, installs & offers quality access control systems. With our integrated Access Control solutions, we provide smarter ways for our customers to protect themselves. We have installed numerous amount of access control system across Perth.
CALL 0427 580 823
Access Control Solutions offer businesses information and authority that helps their business to operate more efficiently with top security. For businesses that take their security seriously, Access Control solutions are high-security solutions that streamline security responsibilities. The technology is sophisticated and top level, helping to ensure security management is utmost.
Our Access Control Solutions help to ensure the protection of the business members and inhabitant of the building premises. We integrate state of the art video elements, designs, installations and maintenance and upgrades systems.
We serve all types of Commercial Locksmith establishments of all sizes. Whether a corporate office to a complex warehouse network, we have the access control solution. In emergency situations, business owners can remotely administer and control access to multiple facilities and activate a central, synchronized lockdown.
Where, When and Why to Use Access Control System
Access Control systems are designed for premises where security matters. Small businesses and building generally have many keys to different locks that are easily stolen and duplicated, which leaves the business security vulnerable. With access control, you have tighter control over the security of your business.
Not only do you have more control over your business with access control, your employees are safer, as well as they can buzz in only who they feel secure to allow into the premises as the access control remains locked at all times.
Business owners are able to designate access to doors they wish specific individuals to have access to. The main person may have access to all the doors in the building, while the office staff may only have access to doors entering the office. The doors allow access with a pin code which is assigned to the various employees. We offer access control systems to schools, offices, aged care, organisations, councils, homes, warehouses, toilet blocks etc.
Access Control is the most efficient and convenient way to secure a business or asset.
How many individuals will be using the system?
How many doors will the access control system control?
The level of security do you require?
What type of access control system do you need?
What is your budget to have the best system for your requirements working for you?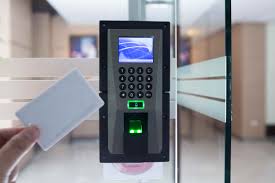 Types of Access Control Systems
Fingerprint Locks
Exit Devices
Digital Keypad Locks
Electric Strikes
Magnetic Locks
Mobile Phone Operated Access Control Locks
Access Control Components
The typical access control system includes:
A control panel
Door contact
Electric strike
Reader card, keypad or biometric
Exit button
At Locksmith Perth 27…
Our technicians are fully qualified and experienced in all aspects of access control. Our technicians:
Professionally install new access control systems
Perform maintenance and all other types of service involved with access control systems
Troubleshoot any problems
Provide maintenance
Installation of alarm systems
Emergency lockout
We are licensed, bonded and insured. We work with all size businesses and organisations. Our access control locksmiths Perth have years of experience in the business and are fully prepared to design, install and maintain access control systems for all size buildings. With extensive knowledge in the field, Locksmiths Perth 24/7  able to provide excellence. All work is 100% guaranteed and our prices are some of the most competitive in the business.
For excellent service at competitive rates, contact us today.
Access Control Systems
Access Control systems are designed to manage and regulate entry to specific areas, whether it's a commercial space, a residential building, or even a single room. The key advantages of access control systems include:
Enhanced Security. Access control systems provide a robust layer of security by restricting access to authorized personnel only. This reduces the risk of unauthorized entry and potential security breaches.
Accountability. These systems maintain a digital record of all access events, including who entered, when they entered, and for how long. This valuable data can be instrumental in investigations or audits.
Remote Management. Access control systems can be managed remotely, giving you control over who has access to your premises from anywhere in the world, enhancing convenience and peace of mind.
Maintaining and Opening Safes
Safes are essential components of any security setup, but they require proper maintenance and may need to be opened under various circumstances. Our expert locksmiths at Locksmith Perth 247 have the knowledge and experience to provide comprehensive solutions for maintaining and opening safes:
Safe Maintenance. Regular maintenance ensures the longevity and optimal functioning of your safe. Our technicians can inspect, clean, and repair safes to ensure they remain impervious to tampering.
Safe Opening. If you find yourself locked out of your safe or need access for any legitimate reason, we offer professional safe opening services. We use non-destructive methods to ensure the safe's contents remain intact.
Access Control Installation Perth
Access Control systems are only as effective as their installation. Locksmith Perth 247 specializes in Access Control installation in Perth, offering solutions tailored to your specific needs:
Site Evaluation. Our experts conduct a comprehensive site evaluation to identify your security needs and recommend the most suitable access control system for your premises.
Installation. We handle every aspect of the installation process, from wiring and hardware placement to software setup, ensuring that your access control system is seamlessly integrated into your existing security infrastructure.
Training and Support. Our services include training your staff on how to use the system effectively and providing ongoing support to ensure that your access control system continues to function optimally.
FAQs
What should I do if I forget the combination or lose the key to my safe?
If you find yourself locked out of your safe, contact Locksmith Perth 247 immediately. Our expert locksmiths are equipped to handle safe opening using non-destructive methods, ensuring the contents of your safe remain intact.
How often should I have my safe inspected and maintained?
Regular maintenance is essential to keep your safe in optimal condition. We recommend having your safe inspected and maintained at least once a year. This ensures that all locking mechanisms and security features are functioning correctly.
Can an access control system be integrated with my existing security setup?
Yes, access control systems can be integrated into your existing security infrastructure. Our technicians will assess your current setup and recommend a system that complements your security needs and integrates seamlessly with your current security measures.
What are the benefits of choosing Locksmith Perth 247 for access control installation in Perth?
Locksmith Perth 247 is your trusted partner for access control installation in Perth. We offer comprehensive solutions, from site evaluation to installation, and provide ongoing support. Our expert technicians ensure that your access control system is tailored to your specific needs, offering enhanced security and peace of mind.
Contact Locksmith Perth 247 Today
For fast and reliable access control services for commercial and retail business needs, contact Locksmith Perth 247.  Just enter the simple details, and we'll quickly respond.
CALL US NOW 0427 580 823